Hosting package (October 26-29, 2008):
3 nights
CAT
extra night
Hotel
SGL
DBL
SGL
DBL
Bahia Othon Palace (local do evento)
R$ 598,50
R$ 598,50
5*
R$ 199,50
R$ 199,50
Portobello
R$ 523,00
R$ 523,00
4*
R$ 174,30
R$ 174,30
Ondimar
R$ 285,00
R$ 345,00
3*
R$ 95,00
R$ 115,00
The reservation site is in portuguese, if you aren't a portuguese speaker try to follow the single steps described bellow or e-mail: reservas@gt5.com.br :
Chose the desired Hotel, clicking in "Verificar Disponibilidade";
In Quant. specify the quantity of rooms desired of each type and click in "Reserve Agora";
Provide your e-mail in "Cadastrar agora";
Fill the form, supplying name (nome), passport, address (endereço), neighborhood (bairro), city (cidade), state (estado), país (country), zip code (cep), password (senha);
For each room, please provide the first and last nome of each guest;
Click in "clique aqui para pagar agora";
Choose the credit card operator and go on.

Cancel terms and policy:

Price by room with breakfast.
Cancellation up to 16 days before event - no charge.
Cancellation after this date, fisrt night charge.
After September, 2008, reservation under each hotel availability.
Exclusive Event Transfer:

Airport/Hotel + Hotel/Airport transfer aditional charge of R$ 80,00 by person (at least two person).
The transfer only can be assured if the fight were informed up to 72h before its arrival.
Cancellation up to 7 days before event - no charge.
Cancellation after this date, full charge (100%).
Payment ways
To bank deposit of hotel, trasfer or flight

Deposit in the brazilian corrent account: Banco BANCO DO BRASIL / Agência 3456-8 / C/C 19703-3 / Top Tours – D.M.C Brasil (CNPJ 02774.423/0001-94)

to credit card payment:

Hotel and transfers

Visa / Mastercard / American Express
(To payments up to August, 31, can be possible split in two)

Flight

According the accepted credit cards and corresponding policies of each air company.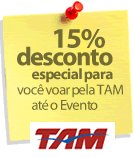 Reservations and Informations
Grupo GT5 BRASIL
Tel: (71) 2102-6600 Fax: (71) 2102-6611
e-mail: reservas@gt5.com.br